WARNING: Your Whole Future… Could Depend On Your Next Exam!
The Solution? Discover The 'How To Study' Secrets 'A' Students Have Been Using For Years.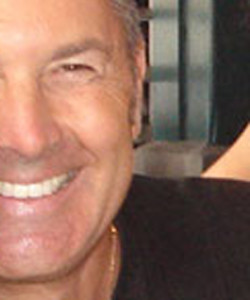 It's true you know. Your whole future is based on the things you do today. Every decision you make, every path you take, will affect the rest of your life. You only realize it when you look back one day and realize…
"if only I'd done things a little differently then I wouldn't be in the situation I'm in at the moment!"
"If only I'd passed that exam then I'd probably be a doctor or a lawyer right now instead of a boring, low paid office worker".
Well… NOW is the time to take your future seriously because you only get one go at it. You need to do everything in your power to make sure you have the future you want and one of the most important steps you can take right now is to get the best possible results in your exams.
Hi… my name is Rob Seiler and I was an 'A' student. Now I want to show you how you can be an 'A' student too! During seven years at university I used trial and error to come up with a study system which I eventually turned into an online course called How To Study Bootcamp. It was such a simple and effective study system that I thought it was too good to be true… and now it's finally available for you to use!
When you purchase  How To Study Bootcamp, I'm going to show you absolutely everything I know about how you can get straight A's. Everything I've learned from 12 years of doing exams.
You'll be able to look over my shoulder as I show you exactly how I studied for my university exams… a system I used to get a degree with honors, a scholarship, the university prize for best performance in a subject, 100% for various assignments, and a whole bunch of A's in my finals. You'll have 24 video lessons in which I explain step by step how you can study for your exams in exactly the same way I did and how you can get the same results I did in my exams. Own your own copy now…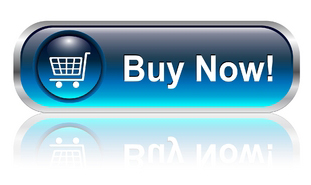 What You Will Learn In This Course…
24 amazing study skills which are rarely identified and absolutely essential to your exam success (how can you be good at something if you don't even know the skills involved in the first place?)… exclusive to this course

A simple, logical, easy to understand, 6 step study system for you to achieve straight 'A's!

How you can study for your exams in the same way you learn to play your favorite sport!

How you can avoid nausea and anxiety before and during your exams! 

This study system will show you how to give answers to exam questions which will make the examiner think you knew what was going to be in the exam! 

How you can prepare for every possible question in your exam!
How you can 

learn by making mistakes!

5 easy ways in which we all learn naturally that are usually ignored and are essential for you to know!

How you can make the most effective and efficient use of your time so you're free to enjoy your life

Learn what the 'question / answer' reflex is and how it can dramatically increase your success in exams? Knowing this alone will make a huge difference to your exam results… find out all about it exclusively in this course

How it's possible for you to learn in exactly the same natural and instinctive ways in which we learn when we're growing up

How you'll be able to think like the person who prepares the exam questions

How you can 

avoid cramming before your exams

How you can 

avoid getting a mental blank in your exams

How you'll be able to create your own system of 'feedback' which is essential in the learning process

This study system will show you how you can produce a reasonable and achievable revision timetable

How you can train yourself to think actively instead of passively so you can maintain concentration and remember more

How to study to a plan, and end up where you want to be
How you can maintain continuous concentration in a 3 hour exam

Why underlining notes and rewriting text books is a complete waste of your time

How you can 

condition yourself for your exam

How you'll be able to 

become a 'mental' athlete

How you can identify what you know and what you don't know so you don't waste time and can concentrate on your weak spots

How you can convince yourself beyond any doubt whatsoever that you know everything necessary to get 'A's… no other study guide will explain how to do this

How you'll be able to quickly dissect an exam question and analyse what's required in the answer

How you can give 'model' answers in your exams

How you can produce an answer to exam questions that shows you've done extensive reading

How you should proportion your time in the exam for each question

17 words that you'll find in exam questions that you absolutely must know the meaning of and which are crucial to your success in exams

How you'll be able to approach your study material from many different perspectives

How you will know where to start, what to include and what to leave out of your exam answers

How you can 

participate actively in lectures

How you can connect with your memory as required by the exam question

How you can organise a structure for all your study material
How you'll be able think in an organized way about a subject
How you can prepare your study material for 'mental digestion
How you can increase your 'mental reflexes
… and much more all in How To Study Bootcamp!
I can't begin to even scratch the surface on the powerful ideas, concepts, and practical tips and lessons you'll discover in this course. This list is just a taste of what you'll experience in the course. Simply by following along with the video lessons you will be immersing yourself in information that's changed the lives (and fortunes) of thousands of students. Purchase now…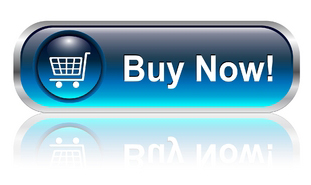 Watch A Free Lesson From The Course
Still not sure whether this course is for you? Then watch one of the lessons from the Tactics Module for free…
Get the complete 24 video course and be watching it in the next 5 minutes…
VIDEO 01 | INTRODUCTION | In this video I introduce you to a complete mind map perspective of the strategy and tactics of how to study successfully.
VIDEO 02 | ASKING QUESTIONS | In this video I explain the first of 5 different ways we learn ie asking questions, and how to use it when you're studying.
VIDEO 03 | MAKING MISTAKES | In this video I explain the second way we learn… making mistakes, and why it's so important when you're studying for exams.
VIDEO 04 | FEEDBACK | This video is all about feedback, the third way we learn, how to create your own and how you can use it to ace exams.
VIDEO 05 | COPYING | Copying is the fourth way we learn and involves copying all the study skills you need to get A's in your exams (I also give you 24 different study skills you can copy).

VIDEO 06 | REPETITION | 

In this video I explain how repetition, the fifth way we learn, will mentally condition you and turn you into a 'mental athlete' in exams.
VIDEO 07 | STEP 1 (1) | This is the first of 6 steps which explain how you can efficiently study large amounts of information using the 5 different ways of learning explained in the previous videos.
VIDEO 08 | STEP 1 (2)
VIDEO 09 | STEP 2 (1)
VIDEO 10 | STEP 2 (2)
VIDEO 11 | STEP 3 (1)
VIDEO 12 | STEP 3 (2)
VIDEO 13 | STEP 3 (3)
VIDEO 14 | STEP 4 (1)
VIDEO 15 | STEP 4 (2)
VIDEO 16 | STEP 5 (1)
VIDEO 17 | STEP 5 (2)
VIDEO 18 | STEP  6 (1)
VIDEO 19 | STEP  6 (2)
VIDEO 20 | THE EXAM (1) | In this video, find out what's really required to do well in exams… and it may not be what you think! Learn how to prepare mentally for the exam & discover the main reason for failing exams.

VIDEO 21 | THE EXAM (2) | 

In this video I explain how you should approach the exam paper in order to get the best possible result in your exams.
VIDEO 22 | THE LAST STEP
VIDEO 23 | ONLINE TESTING (1)
VIDEO 24 | ONLINE TESTING (2)
Risk Free Order – 60 Day Money Back Guarantee
 

You have absolutely nothing to worry about when you join How To Study BootCamp. We offer a full 60 Day Money Back Guarantee – no questions asked.
Become An Affiliate Of How To Study BootCamp
So what does that mean? Well it means that if you sign up for free as a member of ClickBank, which is the company that sells my course, you can sell How To Study BootCamp to your friends and everyone at your school, and for every sale you make, ClickBank will pay you around US$23.
When you join ClickBank you will be able to create a unique link that identifies you as the person who recommended the course. When someone clicks the link and goes to my web site and buys the course, ClickBank will send you a check  for US$23 (or transfer US$23 into your bank account).
The best way to promote the link is probably through your Facebook page or your blog if you have one.
Just go to CLICKBANK to sign up for free, and create a "nick name".
Then click the "Affiliate Marketplace" link at the top of the page.
In the search box… insert "how to study bootcamp" (see below).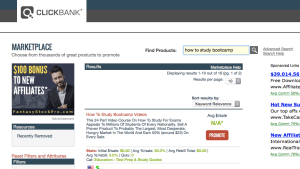 4.  Then click the red "Promote" button to create your unique link.
5.  Insert the "nick name" you just created in the top box (see below).

6.  Click "Create" and your unique link has been created.
7.  Copy and paste the link in a Facebook post or anywhere you want.
Now whenever anyone clicks that link they'll end up on my web site and if they buy the course, ClickBank knows you sent them and will send you around 50% of the cost of the course of approx. US$23 (minus a small admin fee).
What are you waiting for? Join CLICKBANK now and start making some serious money! Good luck.