Finally… you can get the entire 24 lesson course and change your life starting today!
This course is unlike anything else out there on how to succeed in your exams. In fact, I personally guarantee you have never seen anything as powerful as the information revealed in this course. It has already changed the lives of hundreds of students just like you… will you let it change yours as well?
As soon as you sign up and register you'll receive the entire 24 lesson course.
Go ahead, you have nothing to lose and everything to gain, sign up right now and start changing your life immediately.
We're only accepting an initial intake of 500 students to the course in order to maintain a high level of support… so don't waste any more time!
Only $97  $47 for a limited time…
Risk-Free Purchase Form
YES! I want to discover the powerful 'How To Study' secrets previously known only by 'A' students.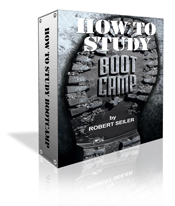 As soon as I purchase I understand…
I get the whole How To Study Bootcamp home study course, available in the member's area as 24  video lessons.
I get access to $250 worth of bonuses to help with studying for my exams.
… all for just US$47 (for a limited time only).
I also understand I get a 100% money-back guarantee for a full 60 days.
I can simply cancel at any time and the $250 worth of bonuses, is mine to keep.
Simply click the button below to purchase now and discover how you could be getting A's in your next exams…


You'll receive a password to the member's area instantly via email and you'll have instant access to the complete 24 video lessons.
(Order online safely and securely. All orders processed and secured by ClickBank — You're 100% protected from unauthorized payments with 24/7 monitoring to prevent fraud. Click the button above, fill in your details, and discover How To Study Bootcamp now).

Please Note: I sell How To Study Bootcamp through Clickbank, which means I play by their rules. And their rules state that I have to offer you an 8-week, money back guarantee. I'm fine with that. I stand behind my materials completely and know you'll be completely thrilled with the content and, more importantly, the results.
However, for your peace of mind, know that a refund is available anytime for the next 8 weeks by simply emailing me or Clickbank if you're dissatisfied for any reason (you can even keep the bonuses below).
Bonuses…
As soon as you join How To Study Bootcamp you will receive the following downloadable bonuses (worth over $200)…